The Walnut Street Ramblers, formed in 2006, have played at many locations in Kentucky including the Danville's Great American Brass Band Festival, Ashland's Paramount Theatre, Lexington's Ashland Park July Fourth Celebration, Lexington's Grand Reserve, and Pleasant Hill's Shakertown. In 2011 and 2012 the band was invited to tour Spain and performed in festivals and concerts on the Mediterranean coast near Barcelona, in Bilbao, Palma de Mallorca, Puente Pumar, and Santander. Several of their performances were recorded and broadcast on Spanish National Radio. While in Spain the Ramblers also performed at the famed jazz club El Corrillo in Salamanca.
The Ramblers' repertoire spans ragtime-era music including Scott Joplin; New Orleans traditional jazz by Jelly-Roll Morton and Louis Armstrong; and hot 1920s music by composers such as Bix Beiderbecke, Hoagy Carmichael, and Cole Porter. We especially enjoy performing this music for contemporary listeners, including those already familiar with New Orleans, Roaring Twenties, and Ragtime music as well as those who haven't yet experienced the thrill of these sounds up close and live.
The Walnut Street Ramblers promise you a hot time—listen, celebrate, dance, and enjoy as they recreate the great times in America's storied musical past.
Ramblers members are widely experienced performers in concert, theatre, club, party, municipal, promotional, sports, and even funeral ceremonies, having played successfully for events ranging from small wedding rehearsal dinners to large outdoor concerts for over a thousand. Look below for further information on individual Ramblers' musicians.
Click to book the Walnut Street Ramblers for a gig »
Biographies
David Anderson—Clarinet and Flute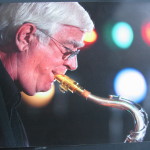 Clarinetist Dave Anderson, Professor Emeritus of Jazz Studies and Woodwinds at Morehead State University received his Master's Degree in Woodwind Performance from Indiana University, an undergraduate Music degree from Concord University and a Master's in Music from Marshall University. Having participated in supervised Jazz instruction throughout his schooling, he pursued specialized jazz courses at the University of North Texas and the New England Conservatory at Tanglewood. After teaching several years in New Orleans he moved to Kentucky and organized jazz clinics at Morehead State, bringing in such groups as the Buddy Rich Band, Woody Herman, Phil Woods Quartet, Blue Wisp Big Band, US Navy Commodores, Clark Terry Quintet, Urbie Green and Clinicians Jamey Aebersold, Jerry Coker and Ray Ricker.
Dave's performance history includes shows with Bob Hope, Rosemary Clooney, Liberace, Sammy Davis Jr., Joel Grey in Cabaret and Debby Reynolds in the Unsinkable Molly Brown, Marvin Hamlisch, Natalie Cole, the Stars of Lawrence Welk, and the bands of Warren Covington, Les & Larry Elgart, Guy Lombardo. More localized groups include the Dave Copeland Seven, Dick Baker Trio, Jay Flippin Dynasty, Men of Note, Mel Owens WHAS Crusade Orchestra, DOJO (Dimartino/Osland Jazz Orchestra), Kentucky Jazz Repertory Orchestra, and Lexington Philharmonic Pops Orchestra. Dave has toured with Johnny Mathis, Steve Lawrence and Eydie Gormé, Perry Como, and Ray McKinley and the Glen Miller Orchestra.
Retirement has brought Dave the opportunity to participate in the Advocate Brass Band on two playing tours of Europe in 2000 and 2004 and to record several CDs. Dave, with the Walnut Street Ramblers, has also made two very successful tours of Spain. As a hobby Dave has studied Bluegrass Banjo and old time banjo with several noted teachers. Dave and his wife Bobbie enjoy sailing at Cave Run Lake and traveling through Europe on their own.
Dennis Davis—Banjo and Vocals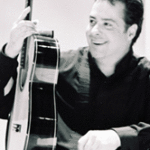 Dennis Davis directs the guitar program at Eastern Kentucky University and previously held guitar instruction positions at the University of Kentucky Fine Arts Institute and the Kentucky Governor's School for the Arts.  He's performed for celebrities such as Patrick Swayze, Wynonna and Naomi Judd, and shared the stage with such performers as Mel Tormé, Ben Vereen, Doc Severinsen, Jeff Tyzik, and the Los Angels Guitar Quartet. Dennis's training includes master-classes and private coaching with notable guitarists such as Christopher Parkening, David Russell, Oscar Ghiglia, and Manuel Barrueco.  Grammy-winning guitarist William Kanengiser described Dennis's performance as "very expressive and solid playing."  His 2011 and 2012 concert tours in Spain with the Walnut Street Ramblers featured performances at numerous jazz festivals and broadcasts on Spanish National Radio.
Dennis received his Ph.D. and undergraduate degrees from the University of Kentucky where he was the first guitarist to be selected as an Honors Recitalist. He received his  M.M. in music performance from the University of Louisville and during that time was featured in the Grawemeyer Award Ceremony Concert for Toru Takemitsu (1994).
Dennis's ensemble collaborations include The Lexington Guitar Trio, The Kentucky Jazz Repertory Orchestra, The Walnut Street Ramblers, and a number of national touring off-broadway productions.  Dennis is the vocalist and guitjoist for the Ramblers, where he performs traditional and ragtime jazz and is featured on several Great American Brass Band Festival compilation CDs.  His freelance work spans more than twenty-five years of concertizing experience, and his commercial music performances regularly feature innovative and artistic digital music applications.  A frequent guest clinician, adjudicator, and presenter, he also co-directs music technology studies at Eastern Kentucky University. His work as an educator and musician has been recognized by grants from the National Endowment for the Arts, the Kentucky Arts Council, the Lexington Arts and Cultural Council, and Eastern Kentucky University.
Paul Deatherage—Drums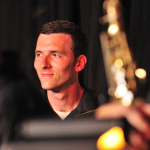 Paul Deatherage is an active performer and educator in the central Kentucky area. A versatile percussionist, he is experienced in many areas including jazz, concert, marching and world percussion. He currently holds the drumset chair for the DiMartino / Osland Jazz Orchestra, the Osland /Dailey Jazztet, the Raleigh Dailey Trio, the Walnut Street Ramblers, Sound Foundry jazz quartet, The Tweak jazz/funk band, the Dave Hummel Big Band, the jazz power trio, Barry Mando Project, and the classic rock/funk cover band, Deep Cutz.
Over the years Paul has had opportunities to share the stage with such noted jazz artists as Joe Lovano, Doc Severinsen, Wycliffe Gordon, Allen Vizzutti, Bob Mintzer, Arlo Guthrie, Malcolm-Jamal Warner, Howard Levy, Zach Brock, Denis DiBlasio, Roberto Sion, Ellen Rowe, Ron McCurdy, Al Hood, Vince Dimartino, Dan Moore, Miles Osland, and Raleigh Dailey.
Paul also leads a varied teaching career, working with students at middle school, high school and college levels. Paul currently teaches drumset at the University of Kentucky. He is also on percussion staff at Lafayette High School, a sixteen-time marching band state champion and a Bands of America Grand National finalist. In addition, he maintains a private teaching studio at Don Wilson Music.
www.pauldeatherage.com
http://finearts.uky.edu/faculty/music/paul-deatherage
Dick Domek—Piano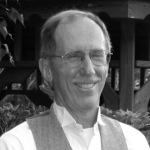 Dick Domek is pianist and music director for the Walnut Street Ramblers. Originally from Chicago, he started playing piano at an early age; he learned ragtime and jazz from recordings, sheet music, and working with other musicians.
Dick has performed as pianist with the Kentucky Jazz Repertory Orchestra, the New Walnut Street All-Stars, the Lexington Singers, the Advocate Brass Band, and his own jazz combo in the Central Kentucky area. His compositions and musical arrangements of traditional "dixie" and jazz music have been recorded, broadcast, and performed worldwide by such groups as the Smithsonian Jazz Masterworks Orchestra, the Chicago Jazz Ensemble, the United States Marine Band, the U.S. Army and U.S. Air Force Orchestras, the Monterey Symphony Orchestra, the Phoenix Pops Orchestra, the Lexington Philharmonic Orchestra, the U.S Army Field Band, Munich Brass, Lexington Brass Band, Rhythm and Brass, and the Kentucky Jazz Repertory Orchestra which he co-directs.
Knowledgeable on the music of Duke Ellington and Louis Armstrong, he is a featured speaker on jazz and ragtime for the Kentucky Humanities Council.   He has received grants from the U.S. Department of Education, the Kentucky Arts Council, and the National Endowment for the Arts. Dick is professor emeritus of Music Theory and Composition at the University of Kentucky School of Music.
Bob Hackett—Tuba and Bass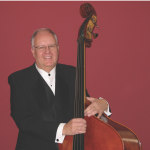 Bob Hackett is much demand in the region. With extensive experience on tuba and bass in the New York metropolitan area, Bob now performs regularly with many groups in central Kentucky. These include the Kentucky Jazz Repertory Orchestra, Bluegrass Area Jazz Ambassadors, and many smaller jazz groups such as Speakeasy, the Dan Brock Quartet, Jazzberry Jam, Colonel's Choice Dixieland, and the contemporary jazz goup O-zone. He is also an original member of LexJam, the monthly community jam session at ArtsPlace in Lexington. As a tubist, he is founder and leader of the Dixie group The Honey Creek Stompers.
A first-rate musician with nine CDs to his credit, Bob is also an electrical engineer by training, having worked earlier as an engineer in music amplification and in the development of the Moog synthesizer and as a laser cartridge manufacturing engineer for Lexmark International.
Bob is recently retired, meaning that he's entered his musical career full-time. Bob's ragtime roots go back to performances with Max Morath, the noted ragtime piano player, recording artist, and host of the public television series on ragtime.
David Hummel—Trumpet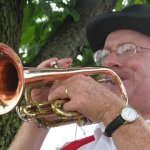 David Hummel has been an active performer and music educator in Central Kentucky since graduating from the University of Kentucky in 1992. He has taught band at the middle and high school level and spent three years as the interim director of the Jazz and Wind Ensembles at Berea College. In addition to leading his own big band, he is a member of the DiMartino-Osland Jazz Orchestra, The Kentucky Jazz Repertory Orchestra, the Kentucky Baroque Trumpets, and has recently been appointed as musical director of the Bluegrass Area Jazz Ambassadors big band.
Over the years David has played in a wide variety of musical groups, playing everything from classical, jazz, and Motown, to salsa, polka and Zydeco. David has been fortunate to perform with several well know touring acts like the Temptations, Aretha Franklin, Broadway shows "Chicago" and "Peter Pan", and jazz greats Doc Severinsen, Bob Mintzer, and Diane Schuur.
Although David plays many styles of music, his first love is traditional jazz. He became intrigued with the music as a young boy, some thirty five years ago, listening to Jon Topy and the Rascals of Ragtyme at the Louisville Redbirds baseball games.
www.facebook.com/DavidHummelMusic?ref=hl
David Ashley—Trombone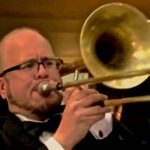 Lexington-based Dave Ashley has spent the better part of the last twenty years traveling the world with his trombone.  Before the coronovirus pandemic he was the full-time Director of the Queens Room Orchestra aboard the famed cruise ship Queen Elizabeth (Cunard Line.)
Dave joined the Glenn Miller Orchestra in 2001 and still hits the road occasionally as a substitute trombonist with the band. He also toured internationally with the Broadway shows 42nd Street and the Mel Brooks musical The Producers.  His years at sea and on tour took him to 120 countries and all fifty states.
During his career he has performed with many well-known acts such as The Temptations, The Four Tops, The Platters, The Coasters, The Drifters, The Manhattan Transfer, and countless others.  He has arranged music for numerous entertainers, from Broadway and West End vocalists to a Liverpool-based tribute to The Beatles.
Locally he has been a member of the DiMartino-Osland Jazz Orchestra, the G-Funk All Stars, Saxton's Cornet Band, the Lexington Brass Band, and of course the Walnut Street Ramblers.